Intersil - Latest LDOs provide best-in-class dropout / transient performance for sensitive loads (ISL80510)
Author:OMO Release Date: Oct 6, 2015
---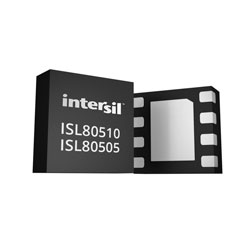 Latest from Intersil are two new high-performance, single-output low-dropout (LDO) voltage regulators that provide best-in-class dropout and transient performance for noise sensitive loads. The ISL80510 and ISL80505 deliver 1A and 0.5A of continuous output current and ultra-low dropout of 130mV and 45mV at full load, respectively. The ISL80510′s maximum dropout is nearly 50% lower than the nearest competitor, which enables lower power dissipation in industrial, wired and wireless equipment.
The ISL80510/05 LDOs also provide better transient performance with peak-to-peak excursions up to nine times lower than competitive LDOs. This transient performance level and DC accuracy of 1.8% safeguards against voltage undershoots and overshoots to deliver clean point-of-load voltage to CPUs, DSPs and MCUs, which require tight voltage accuracy and low noise. The ISL80510/05′s compensation loop provides excellent noise filtering by maintaining a flat power supply rejection ratio (PSRR) response over a wide range of frequencies.
The ISL80510 operates from input voltages of 2.2V to 6V, and the ISL80505 supports 1.8V to 6V. The output voltage of these LDOs can be adjusted from 0.8V to 5.5V, which enables designers to cover a broad range of applications including low power RF amplifiers, communications equipment, industrial process control systems, test instruments, medical equipment, and consumer network routers. An adjustable soft-start feature allows designers to control the input inrush current and program the startup time to accommodate any power-up sequencing requirement, says the company.
"We increasingly see a broad range of applications that need a cost-effective, yet high performance LDO solution to address noise sensitive loads," said Mark Downing, senior vice president of infrastructure and industrial power products, Intersil. "The pin-compatible ISL80510 and ISL80505 easily satisfy this requirement with best-in-class dropout and transient response, and programmable soft-start features at the right price point."
The ISL80510 and ISL80505 LDOs can be combined with the ISL80136 40V/50mA linear regulator, ISL80138 40V/150mA linear regulator, and synchronous step-down DC-DC converters, such as the ISL8117A and ISL8026, to support the bulk power rails in a typical process control industrial application. Both LDOs are pin-to-pin compatible and supplied in thermally enhanced 8-lead, 3mm x 3mm DFN packages.
The ISL80510EVAL1Z evaluation board is also available allowing designers to quickly evaluate the features and performance of the 1A ISL80510 and 500mA ISL80505.
---