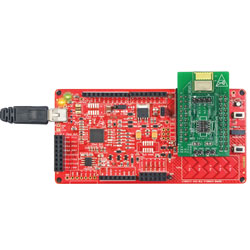 Cypress Semiconductor has introduced a Bluetooth Smart module – the market's first Bluetooth Low Energy solution to integrate programmable analog and digital blocks in a fully-certified module. The new, small-form-factor EZ-BLE PSoC module includes Bluetooth 4.1 qualification and worldwide regulatory certification, greatly simplifying design and decreasing time-to-market, says the company.
Cypress a single supplier for silicon, software, firmware and module hardware, streamlining the customer support required to develop sensor-based, low-power systems for Internet of Things (IoT) applications, including sports and fitness monitors, medical devices, wearable electronics, home automation solutions and game controllers.
Sensor-based systems require an Analog Front End (AFE) for sensing, digital control logic, a BLE radio and a microcontroller, and products with a sophisticated user interfaces require an additional touch or display IC. Based on Cypress's PSoC 4 BLE Programmable System-on-Chip with an ARM Cortex-M0 core, the EZ-BLE PSoC module integrates all of the building blocks of a sensor-based system, along with Cypress's industry-leading CapSense capacitive touch-sensing functionality, two crystals, an on-board trace antenna, metal shield and passive components, all in a compact 11mm x 11mm x 1.8mm form factor.
Users designing with the module can apply to add the Bluetooth logo on their products by referring to Cypress's Qualification Design Identification (QDID), a unique serial number assigned by the Bluetooth SIG. The EZ-BLE PSoC module is compliant with wireless regulatory standards and is fully-certified in key markets, including the U.S., Canada, Europe, Korea and Japan, significantly saving hardware development, testing, manufacturing and certification costs.
"Sensor-based systems that connect the real world to the IoT must operate interactively and autonomously, using low-power wireless communication and running on batteries," said Dave Solda, director of the Module Business Unit, Cypress. "These system designs have traditionally required multiple ICs, but Cypress's EZ-BLE PSoC allows designers to maximize their system integration in an easy-to-use module, reducing the solution BOM cost, required board space, and the cycle time required to get to market."
Designers looking to create Bluetooth Smart products must often use software tools from multiple vendors and develop complex firmware to meet wireless specifications. Cypress has abstracted the Bluetooth Low Energy protocol stack and profile configuration into a royalty-free, GUI-based BLE component that can be dragged and dropped into designs using Cypress's PSoC Creator integrated design environment (IDE). PSoC Creator enables complete system design in a single tool. Application details for Cypress's BLE Component are embedded in PSoC Creator with examples of all supported Bluetooth Low Energy profiles and hundreds of example projects for mixed-signal system designs.
The EZ-BLE PSoC module enables designers to create custom AFEs for sensor interfaces using programmable analog blocks such as op-amps, comparators, ADCs and DACs. Designers can integrate digital logic with the programmable digital blocks, which include Timers, Counters, Pulse-Width Modulators (TCPWMs), Serial Communication Blocks (SCBs) and Universal Digital Blocks (UDBs). The programmable architecture reduces power consumption for battery-operated applications by offloading CPU tasks to the UDBs and it enables run-time reconfiguration of blocks, allowing the design to service multiple functions.
EZ-BLE PSoC joins Cypress's EZ-BLE PRoC module, which is based on Cypress's PRoC BLE Programmable Radio-on-Chip solution and is now in production in a small 10mm x 10mm x 1.8mm form factor. EZ-BLE PRoC targets remote controls, health and fitness equipment, home appliances, toys and other wireless applications, says the company.
Cypress also offers the BLE Pioneer Development Kit, which gives users easy access to the Cypress Bluetooth Low Energy devices, while maintaining the design footprint from the popular PSoC 4 Pioneer kit.