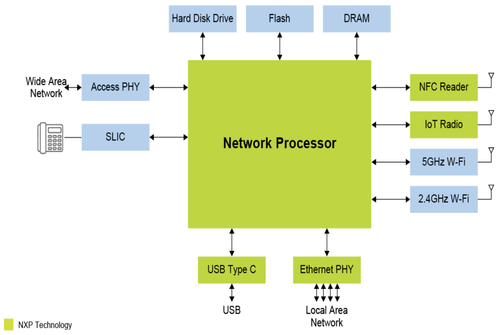 By taking Freescale Semiconductor's communications chip expertise and combining it with free internet of things (IoT) integration software, NXP aims to stop users from cutting the cable by offering smart, easy-to-use home-wide IoT integration services that turn cable operators into super-internet-service-providers (super ISPs).
"There's no reason all types of Internet of Things devices around the home cannot be integrated by a smart gateway centered on WiFi, but also supporting the other communications standards like Bluetooth and regular TV," Jim Bridgwater, senior product manager for digital networking at NXP Semiconductors told EE Times.
In an era where more and more people are cutting the cable—especially in neighborhoods that have alternative internet service providers (ISPs) such as fiber—cable operators are looking for ways to keep from becoming irrelevant. Young users are watching TV over the Internet, on services such as Hulu—because it's archived instead of broadcast. Likewise movies are increasingly being streamed by Netflix for the same reason.
The key for cable companies to keep the younger audiences coming to them is offering them a free smart gateway that integrates all their IoT devices, plus offers them Netflix, Hulu, YouTube and the legions of look-a-likes on whichever screen they wish to view it at the moment. These home gateways have also got to be smart, so that handling voice, data and video is all done seamlessly without interruption or compromise.
"For instance, we build into our software priority for VoIP [voice-over-internet-protocol] so that the speakers can still be clearly heard, without glitches, even if someone else in the house starts a giant video download while you are talking on the phone," Bridgwater told EE Times.
To simplify the cable engineers job of integrating all the IoT devices into their traditional TV-only modem, the company has added a software stack to Freescale's chips that comes free with the QorIQ chips called the OpenWrt operating system and its associated application development kit.
"NXP has added a stack that includes all the software you need to create wireless access points so engineers can concentrate on differentiating their device from others with special features," Bridgwater told us.
[See video of NXP's Jim Bridgwater discussing topics related to broadband home routers.]
The up to 20-gigabit per second bi-directional broadband chip sets consumes the usual amount of power for a traditional TV modem, but can also are cranked down to as slow as 1-Gbps for a significant savings in power. It also has plenty of performance headroom for specific ISPs to add their own services and to perform sophisticated analytics without having to resort to cloud connections.
The new gateway chip family comes in a variety of models all using embedded 64-bit ARM Cortex processors capable of analog speech commands, video analytics, high quality-of-service functions, WiFi extension and battery operation.
EIS LIMITED is a stocking distributor of NXP IC, if you have any demands, you can visit www.integrated-circuit.com or send us an email sales@integrated-circuit.com