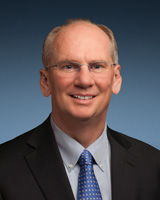 U.S.-based semiconductor maker Micron Technology Inc. said Thursday (June 30) it would cut an unspecificed number jobs as part of a series of cost-cutting initiatives in the face of challenging conditions in the global memory chip market.
Micron (Boise, Idaho) said it expects to save about $80 million per quarter in the next fiscal year through a combination of job cuts and other unspecified measures.
Mark Durcan, Micron CEO, said in a conference call with analysts following Micron's quarterly report Thursday that the company believes the cost-cutting measures are "prudent and will help deliver the best long-term results for the company."
Micron reported sales of $2.9 billion for its fiscal third quarter, which closed on June 2, slightly below consensus analysts' expectations. Sales were down slightly compared with the previous quarter and down 25% compared with the same period of 2015.
Micron reported a net loss for the quarter of $215 million, wider than the net loss of $97 million it posted in the previous quarter. The company reported a net income of $491 million in the year-ago quarter.
"We continue to navigate challenging market conditions, but remain confident in the long-term health of the industry and the company's strategy to improve our relative competitive position," Durcan said in the conference call.
The semiconductor memory market has been mired in supply glut creating pricing softness for well over a year. According to market research firm TrendForce, average contract prices for DRAM have been in decline for 19 consecutive months. DRAM represents about 60% of Micron's revenue.
"All suppliers are now under enormous cost pressure," said Avril Wu, research director at TrendForce's DRAMeXchange unit, in a statement issued in mid-June. Wu said TrendForce expects prices for DRAM to stabilize next year as suppliers implement plans to control supply growth.
Micron said its DRAM units sales increased 22% sequentially in the fiscal third quarter, but that the increase was partially offset up an 11% decline in average selling prices. Unit shipments of non-volatile memory decrease 10% sequentially coupled with a 6% decrease in average selling prices in the fiscal third quarter, Micron said.
Durcan said the current pricing environment for both DRAM and NAND flash memory appears to be improving.
Micron said it expects sales for the fiscal fourth quarter to be between $2.9 billion and $3.2 billion, slightly below consensus analysts' expectations.
EIS LIMITED is a stocking distributor of MICRON IC, if you have any demands, you can visit www.integrated-circuit.com or send us an email sales@integrated-circuit.com