Cypress - New SLC NAND flash memory family reduces system costs and improves security
Author:OMO Release Date: Oct 7, 2015
---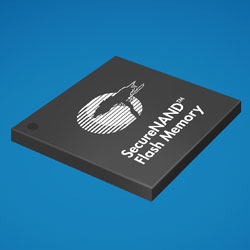 Cypress Semiconductor has introduced a single-level cell (SLC) NAND Flash family for high-security applications. Typically, designers of high-security applications have been using a NOR Flash memory with block protection for boot code storage and a commodity SLC NAND Flash memory for system firmware and application storage. The new Cypress SecureNAND family of devices reduces system costs and improves system security by providing a single nonvolatile memory with integrated block protection features for set-top boxes, point-of-sale systems, wearables and other high-security applications.
The Cypress SecureNAND family includes 1Gb, 2Gb and 4Gb devices, all of which offer the ability to configure the entire device with nonvolatile block protection to store protected boot code, system firmware and applications. These products provide 100,000 program/erase cycles to ensure more than five years of system life. The devices have an operating voltage range of 2.7V to 3.6V and support the industrial temperature range of -40C to +85C.
"End users are becoming more concerned with the security of the products they buy, and manufacturers are responding by seeking an SLC NAND Flash memory with enhanced security features," said Touhidur Raza, director of the NAND flash product family, Cypress. "The SecureNAND family addresses this market need while reducing systems costs, and it comes with the backing of Cypress as an established high-quality SLC NAND supplier."
Available in a 63-ball grid array (BGA) package The 1Gb S34SL01G2, 2Gb S34SL02G2 and 4Gb S34SL04G2 SecureNAND devices are sampling now with production expected in the fourth quarter of 2015, says the company.
---