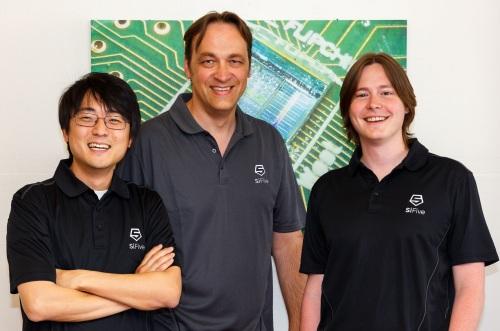 A startup aims to help a broader set of engineers roll their own silicon using its customizable open-source systems-on-chips. SiFive will publish specifications for an SoC based on an embedded Linux processor core and one using a microcontroller core both based on work of the RISC-V Foundation.
"We want to give more people access to custom silicon," said Yunsup Lee, co-founder and chief technology officer of SiFive and one of the inventors of the royalty-free RISC-V instruction set architecture at the University of California at Berkeley.
The work comes on the heels of a record year of semiconductor mergers, in part driven by the need to defray the increasing complexity and cost of designing leading-edge chips. "We think the industry is going the wrong way," said Jack Kang, SiFive's vice president of product and business development, pointing to the startup's 28nm and 180nm platforms.
So far open-source silicon has failed to gain traction, and it's still early days for RISC-V, the latest and broadest effort to date. The RISC-V group is rounding out fundamental parts of its specifications in areas such as debugging, and software support is still embryonic but interest is steadily growing since it was formally announced in 2014.
As many as 250 people from 63 companies are expected to attend the fourth RISC-V workshop this week, including board members from Microsemi, Nvidia and Western Digital. Members of the non-profit jumped to 40 companies from 16 in January and include Google, IBM, Microsoft and Oracle.
At the event, SiFive will let attendees try out their RISC-V SoCs implemented on a Microsemi FPGA board. The company hopes to land initial customers in the next several months.
Ted Speers, head of product architecture and planning for Microsemi's SoC group, and a RISC-V Foundation board member, praised SiFive in a press statement. SiFive's "agile methodology enabled [them] to deliver a complete RISC-V sub-system and tool-chain targeting our secure, low power SmartFusion-2 SoC FPGA platform on a very aggressive schedule," he said.
"It's quite believable that open source hardware can decrease the cost of new design starts by enabling more design re-use and lower IP costs," said David Kanter, a processor analyst with The Linley Group who also blogs on his own Web site.
On the other hand, SiFive is essentially testing a new theory that there is a significant class of technical people barred by traditional costs but interested in specifying new processor instructions and blocks to differentiate products, Kanter added. Overall, "open source has proven to be a pretty powerful force in the software world, but its unclear how that will map into the hardware world," he said.
EIS LIMITED is a stocking distributor of SoCs IC, if you have any demands, you can visit www.integrated-circuit.com or send us an email sales@integrated-circuit.com